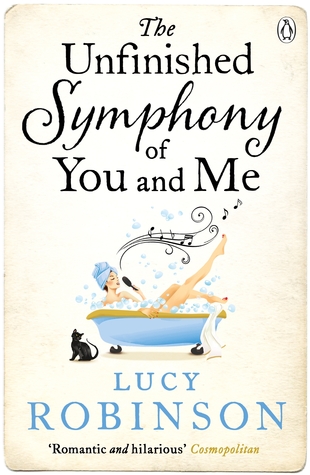 "Sally is a woman of many (hidden) talents.
She's been working as a wardrobe mistress at the Royal Opera House, not telling a soul she's a damn good singer. But then, she's only been able to sing if she's shut inside her wardrobe, where she's safe.
But she's made a promise to her cousin Fiona that she would audition for Opera School and, for complicated reasons, she can't get out of it – even though she'd rather claw her eyes out than sing in public.
Sally has a lot to learn, but will she figure out that stage fright is about more than forgetting the words?
And that perhaps her real problems lie very much closer to home?"
MY REVIEW
Firstly I'd like to thank the publishers for sending me this book to read and share my honest opinion. I've enjoyed other books by Lucy Robinson (reviews here) so I couldn't wait to get started.
Right from the beginning I was hit by Lucy's familiar humour and drawn in by some very vivid characters. I could tell that reading this book was going to be quite a ride! The comedy continued throughout the book and I must admit that it was my kind of humour. The writing style had a certain bluntness to it which simply made me laugh and I do love a book that makes me laugh out loud while I'm reading.
The opera side of the storyline was actually quite fascinating for me, I knew nothing about opera before reading this book and, while it certainly didn't make me an expert, I do feel like I learned a few things about the world of opera.
There was an intense mystery surrounding Sally's trip to New York and what had happened there. I came up with a few predictions as to what the big drama was (all of which were wrong) but in the end it all became too much for me and I found myself screaming (in my head of course because little one was asleep) WHAT HAPPENED IN NEW YORK??? There were snippets of information along the way but then just as I thought I was about to find out, I was whisked back to the present day – Lucy Robinson you certainly know how to tease your readers!
I mentioned that the characters were vivid – the most vivid of them all were Barry and Jan, let me tell you why…
Barry was just epic! I could picture him so clearly stood there talking to Sally and calling her 'chicken'. His massive personality really jumped off the page and made me smile every time he spoke.
Jan was equally as epic (are we all picturing the epic strut right now? Because we should be)! I could almost hear his accented words whispering through the pages at me. He came out with the most entertaining sentences I think I've ever read in a book – "will you be dying in this moment" was one of my favourites.
That big mystery I told you about? Well, towards the end I started to get an inkling of what had happened because each piece of the puzzle had gradually begun to fit together. At that point I couldn't help but think back to the story I'd just read and look at it with a completely different viewpoint, one that was far more emotional than I'd expected.
This was a cracking read, a laugh-out-loud sort of book that was sprinkled with some very emotional scenes.
CONNECT WITH THE AUTHOR
Website | Blog | Twitter | Facebook | Instagram
BUY THE BOOK