Today I'm excited to be taking part in the blog tour for Surfing in Stilettos by Carol E. Wyer.  This is the latest tour arranged by the fabulous Fiction Addiction Book Tours.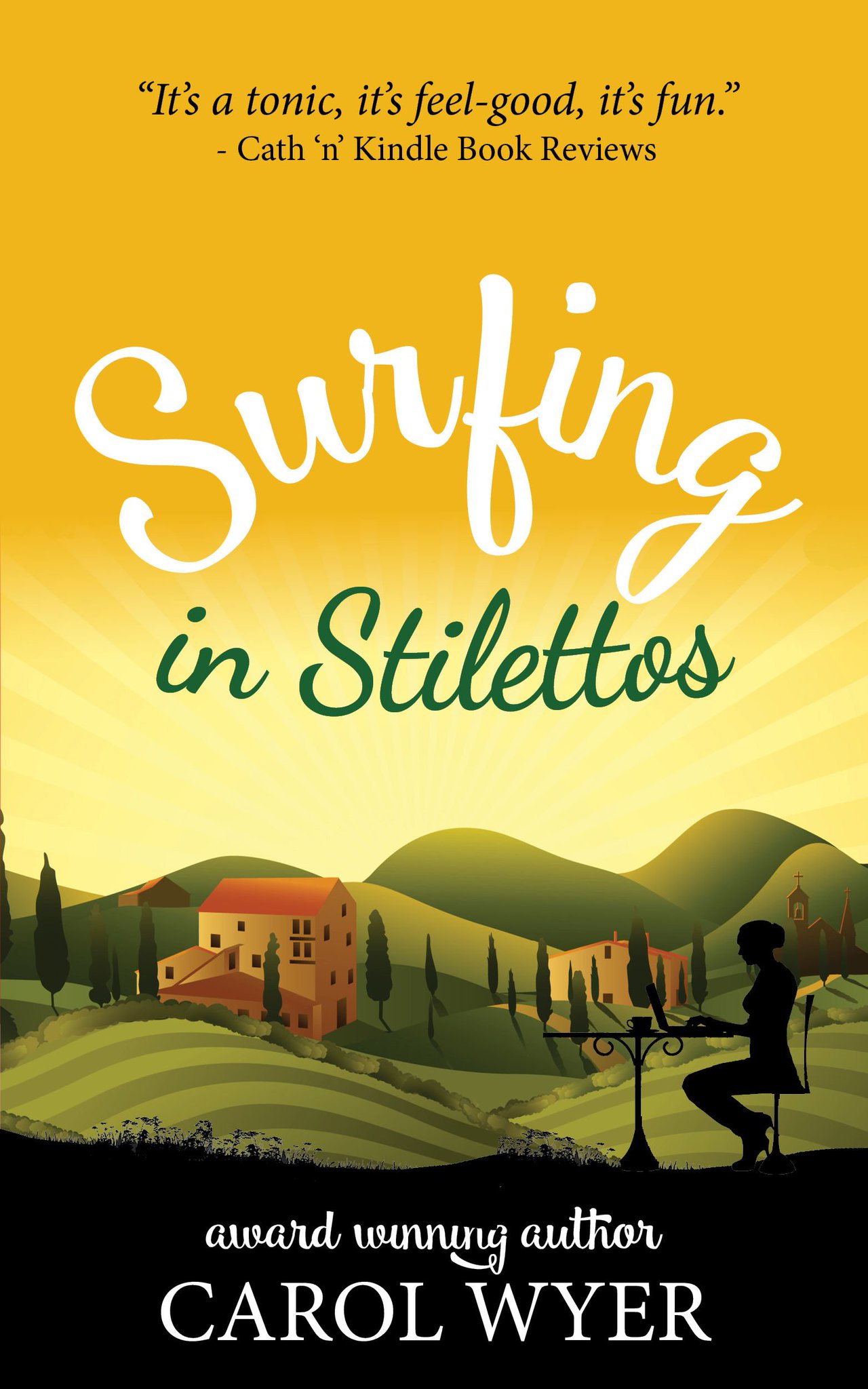 Full tour details can be found here.
"Amanda Wilson is all geared up for an exciting gap-year, travelling across Europe. She soon finds her plans thwarted when she is abandoned in France with only a cellarful of Chateau Plonk, a large, orange Space Hopper, and Old Ted, the dog, for company.
Fate has intervened to turn her life on its head. First, Bertie, the camper van, breaks down. Then her dopey son, Tom, who is staying in their house in the UK, is wrecking it, one piece at a time. Next, the jaw-dropping video Skype calls that her irrepressible mother insists on making are, by contrast, making Amanda's humdrum trip even less palatable. Finally, she discovers that her new-found, French friend, Bibi Chevalier, had engineered a plan to ensure that her philandering husband would never stray again; unfortunately, Amanda is unwittingly drawn into the scheme, becoming a target.
Meanwhile, on a beach in Sydney, a lonely Todd Bradshaw realises that his first true love, Amanda Wilson, is definitely the only woman for him. Can he get back into her good books and hopefully back into her arms with his latest plan? Or will fate intervene yet again and turn everyone's lives upside down?"
When I first started this book I admit that I was worried about not being able to relate to the main character who was in her fifties, because I hadn't got there myself yet.  Well I'm pleased to say that it wasn't an issue at all – I grew very fond of Amanda and thanks to the clear writing style I was easily able to understand where she was coming from.
It did take me a little while to fully engage with the storyline but once I did I was hooked, from then on I found it easy to sail through the pages with laughter and a smile on my face.  The blog posts and comments were definitely my favourite part of the book, I just loved the familiarity of it especially when DizzyC popped up – I actually shouted 'yay it's Dizzy' which resulted in a raised eyebrow from my husband (he still doesn't really understand my obsession with fiction, bless him).
So as the blurb has already told you, Amanda and her husband Phil were on a tour of Europe and they both seemed to feel differently about the situation – Amanda saw it as a way of rekindling their love for one another but Phil, who was feeling troubled about other parts of his life, seemed to be annoyed by the whole thing.  The author tackled the subject of marriage gone stale perfectly, it was written in a light and refreshing way but still managed to get the message across.  I personally loved the idea of having a gap year and would be keen to do something similar in the future (though I'm not sure about being stuck in a camper van with my husband for a year either)!
Amanda's ex Todd was lurking in the background, he felt like Amanda was the one that got away and seemed intent on getting her back.  I just couldn't predict how this part of the story would turn out and I must admit that I enjoyed the unknown.  Amanda's mother was hugely entertaining and I absolutely loved reading about her antics, the mother and daughter Skype chats were a particular favourite of mine because I found myself comparing them to FaceTime chats with my own mum :).  I loved the dogs that were featured in the story, being an animal lover I always enjoy a book with a pet or two included – it makes a story whole in my opinion!
Being mostly set in France it gave me a warm holiday type feeling which was very welcome seeing as it was snowy and freezing cold outside my window.  However, when the story took a sinister turn I got chills and felt deeply concerned for the character involved – it certainly made me think more about the darker side of social media.
Towards the end there was an interesting and very clever twist, it made my thoughts go in completely the wrong direction – the end result of this really made me smile and finished everything off beautifully.
This was a fun read that took my mind to many interesting places, it doesn't matter if you're facing fifty or not because there was something for everyone within its pages.
Surfing in Stilettos is available to buy now in the following formats: 
Amazon UK (Paperback)
 | Amazon UK (Kindle Edition)
 | Amazon US (Paperback) | Amazon US (Kindle Edition) | FeedARead (Paperback)

ABOUT THE AUTHOR
After completing a degree in French and English, Carol E Wyer became a language teacher. She actually began her working life abroad, in Casablanca, Morocco, where she taught English as a Foreign Language in an American Language school. It was soon discovered that she could speak French rather well, and she became a translator and teacher to large organisations and companies such as 'Regie de Tabac', Morocco's largest cigarette company, and the Mediterranean Shipping Company.
After a few years she was 'head-hunted 'to run the English as a Foreign Language department of a private school in the UK. (Imagine Hogwarts without the wizardry.)
Carol taught English up to, and including 'A' Level, along with English as a Foreign Language. She also qualified to teach pupils with Dyslexia and became Head of English for Special Needs. In 1988, Carol set up her own language company called Language 2000 Ltd and worked in schools and for companies. She taught a variety of languages, including basic Japanese, to all ages and translated documents.
A recurrence of spinal difficulties that began when she was a teenager, forced her to give up teaching and choose a new direction. In order to deal with her health problems, Carol attended a fitness course (Premier), took the qualifications to become a fitness instructor and became a personal trainer. That led her to become a trainer for others, particularly for older people who, like herself, had undergone major surgery.
Thanks to older age, Carol now no longer trains people, but she is currently writing a series of novels, articles and books which takes a humorous look at getting older. It is her hope that they will educate through laughter and help others appreciate life.
Carol has written several short stories over the years, including humorous books for children which served to teach them French. She was not able to fulfil her desire to be a full-time author until two years ago when her son flew from the nest, leaving his bedroom which Carol turned into her office.
Since then, she has written two novels, Mini Skirts and Laughter Lines and Surfing in Stilettos, both of which have enjoyed media attention and success, becoming best sellers and winning awards.
Carol writes regularly for author websites and she has recently become a contributing author on a help guide entitled Tutorials and Tools for Prospering in a Digital Age.
AUTHOR LINKS
Amazon UK Author Page | Amazon US Author Page | Website | Thornberry Publishing | Safkhet Publishing also here | Blog | Facebook | Twitter | Goodreads | Member of Romantic Novelists Association
GIVEAWAY
The giveaway is for 3 x Handmade Belgium chocolates (stilettos and handbags), 2 x Scotch stiletto tape dispensers in pink, 1 x stiletto key ring and 3 x copies of Surfing in Stilettos.  To see photos of these items visit the tour post here.
To enter the giveaway click on the following link and follow the instructions:
The giveaway is for the whole tour and is open from 25th March until 6th April.
Good luck!