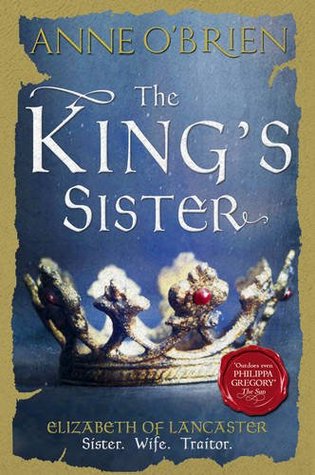 Publisher: Mira Books
Publication Date: November 2014
"One betrayal is all it takes to change history
1382. Daughter of John of Gaunt, sister to the future King Henry IV, Elizabeth of Lancaster has learned the shrewd tricks of the court from England's most powerful men.
In a time of political turmoil, allegiance to family is everything. A Plantagenet princess should never defy her father's wishes. Yet headstrong Elizabeth refuses to bow to the fate of a strategic marriage. Rejecting her duty, Elizabeth weds the charming and ruthlessly ambitious Sir John Holland: Duke of Exeter, half-brother to King Richard II and the one man she has always wanted.
But defiance can come at a price.
1399. Elizabeth's brother Henry has seized the throne. Her husband, confidant to the usurped Richard, masterminds a secret plot against the new King. Trapped in a dangerous web, Elizabeth must make a choice.
Defy the King and betray her family. Or condemn her husband and send him to his death.
Sister. Wife. Traitor.
She holds the fate of England in her hands."
MY REVIEW
Firstly I'd like to thank ED PR for sending me this book to read and share my honest opinion. Although I don't often read historical fiction I have found that I really enjoy books by this author (reviews here) so I was looking forward to getting stuck in.
Every now and then a book comes along that touches me in a completely unexpected way. The King's Sister was one of those books – the wonderfully romantic tale of Elizabeth of Lancaster and Sir John Holland played on my mind long after I had finished reading!
Elizabeth as a character had so much zest and passion within her, she was a romantic at heart and I found myself willing her on in her sometimes defiant behaviour. Unsurprisingly she found herself drawn to John and the love story that followed was exciting, dramatic and heart-melting.
Once again I just loved the way the author brought these historical characters to life and, in a crazy kind of way, they almost felt like close friends by the time I got to the end of the book.
Family loyalty was a big part of the storyline but love was an even bigger part, this was a truly powerful love story that pulled a range of emotions from me. In particular, there were a couple of scenes towards the end which had me in floods of tears – I felt as heartbroken as the character on the page!
This was another enchanting read from Anne O'Brien, my favourite so far.
CONNECT WITH THE AUTHOR
BUY THE BOOK